Milwaukee Journal Sentinel: Death of the Crusher
Oct 25, 2005
Author: AWA World News

Showman leaves the ring
The Crusher's villain act won over fans
By MIKE JOHNSON of The Milwaukee Journal Sentinel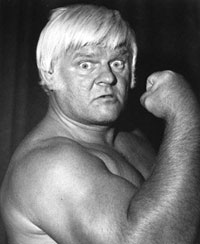 An icon in professional wrestling circles who was considered a man of the people because of his blue-collar Milwaukee roots, Reggie "The Crusher" Lisowski has died, losing his final bout to a non-cancerous brain tumor, his son said.Quotable I think the working people identify with me, because years ago I worked when I wrestled, too. - Reggie "Da Crusher" LisowskiHe worked out on his last day. That's how he wanted to go. - David Lisowski, his sonLisowski, 79, died Saturday night, having never fully recovered from surgeries to remove the tumor at the base of his brain stem, David Lisowski said Sunday.he two surgeries affected The Crusher's ability to swallow and left him partially paralyzed. The brawny brawler had to be fed through a feeding tube for several months.But the operations never crushed Lisowski's spirit, David Lisowski said.Through it all, the Crusher kept on working out."He worked out on his last day. That's how he wanted to go," said David Lisowski, of Delafield. "He did concentration curls and triceps work. He just had to work out every day. . . . In his mind, he never thought he was old."

Lisowski, who played fullback for South Milwaukee High School, learned to wrestle while in the Army in Germany during World War II, old newspaper stories about him say.The Crusher came back from the war and played semi-pro football, his son said.Then one night, Lisowski, went to a carnival in town. There, someone had set up a ring and was urging people to step up. If you could beat the guy in the ring, you would get a ."Well, he stepped into the ring and beat him, and he got a buck," David Lisowski said. "He did this for a couple of days and beat everybody. That's how he got interested in wrestling."From there, he learned that some wrestlers worked out at the Eagles Club, so he joined. Eventually, he hooked up with a Chicago promoter, who got Lisowski matches at a small armory in Chicago, where the wrestler earned a night.

In Chicago, Lisowski drew the attention of a promoter who booked wrestlers from all over the nation. That promoter, according the news reports, put Lisowski on national television and took him on the road. At one point, according to a 1952 news article, Lisowski drew 8,000 people to a bout in Buffalo, N.Y.Lisowski and his family lived for a time in Canada and in Texas while he pursued wrestling full time, David Lisowski said. Eventually, they returned to the Midwest and Wisconsin, where the cigar-chomping, beer-drinking Crusher quickly became the people's favorite."The Crusher was a mainstay in professional wrestling for so long," promoter Frank DeFalco said of Lisowski's more than 30-year career, which spanned from the 1950s to the 1970s. "He sold out the Milwaukee Auditorium and Arena on a number of occasions."A promoter along the way once said of Lisowski that the wrestler "just crushes everybody," David Lisowski noted, and that's how the name "The Crusher" began.Though he began his career as a bad guy, people took to the barrel-chested wrestler. "He never really changed his style. He was a villain, but for some reason people started liking him more," David Lisowski said.DeFalco says that was because The Crusher was just a good "old-fashioned wrestler."
In 1985, a reporter asked The Crusher why he was so popular in Milwaukee. "I think the working people identify with me, because years ago I worked when I wrestled, too. I worked in a packing house. I worked at Ladish, Drop Forge, Cudahy Packing House. I was a bricklayer. But finally, I got away from punching the clock," he said.The flamboyant American Wrestling Association brawler became known as "the wrestler who made Milwaukee famous."Some of the ads promoting wrestling, might have helped, too. DeFalco remembers one in which The Crusher had a barrel of beer on his shoulder and said he was going to kick "The Weasel's" butt all over Milwaukee and then "we'll have a party, take all the dollies down Wisconsin Avenue and go dancing." The Crusher was referring to Bobby "The Brain" Heenan.In another commercial, The Crusher bent a tire in half. "Not many people can do that," David Lisowski said.The Crusher teamed up with William "Dick The Bruiser" Afflis and won a number of tag-team titles.Lisowski also participated in what people said was the first cage match ever, in which The Crusher took on Maurice "Mad Dog" Vachon. At one point, Vachon was kicking The Crusher, and "some woman was climbing the cage to save The Crusher," DeFalco said.David Lisowski said his dad won the battle - Mad Dog ended up in the hospital, but The Crusher was a mess, too. "He came out really beat up. His head was cut up. He had a busted eardrum. The whole right side of his body was bruised. But the next day, he went to Green Bay to wrestle," David Lisowski said.In 1985, The Crusher, still a favorite son, battled seven others for a different title - best amateur conductor of the Milwaukee Symphony Orchestra. Billed as the "Battle of the Batons," The Crusher took third.

Although flamboyant, The Crusher took professional wrestling seriously.In 2001, after fellow wrestler Jack Wilson died, a Wisconsin Public Television reporter wanted Lisowski's number to interview the wrestler for a special on professional wrestling.

The Crusher wanted no part of it.

"People make a joke out of it," he said of wrestling. "But it wasn't a joke to me. It was a living."

"America Needs Your Help"
A Message from AWA President Dale R. Gagne

Words can not describe the feelings, emotions and frustration I've felt, along with million's of other American's, at the total devastation caused by Hurricane Katrina. Total communities have been wiped out in one of America's worst natural disasters. The biggest frustration we are challenged with is
"what can we do to help".

AWA APEX (WV) News
Author: AWA APEX Office

Starting December 3rd, AWA APEX will be airing Saturday mornings at 11:00 am and The Gorge Channel, channel 4. For the first time since the 70's Pro Wrestling will be aired and produced locally. Reviving the studio wrestling days from WOAY. The goal of AWA APEX is to give the audience the retro feel that the time honorred "original" WOAY gave, while at the same time giving you the cutting edge of Sports Entertainment. Studio Championship Wrestling, which is the name of our show, will be the perfect marriage of the tradition of yesteryear and the product of the future.

The Thanksgiving thunder Card is shaping up. Already signed is: Flex vs Alan Lynch, and Devon Davis is barred from the APEX Studio Arena, as the Shooting Star Title is on the line. The American Idols will defend the Tag Team Titles of APEX against Team Gay, with Street Fight Rules. Mr. Black will face the Cuban Assassin for the APEX Title, and the Black Attack Challenge, recently upped to $2000.00. If Cuban looses, he gets tared and feathered like a turkey. The Main Event- Kirby Mack, Krazy K will face either Jason Kincaid or Chris Vega. Vega may face double duty that night. This match will be for the AWA World's Lightweight Championship. All tickets are reduced to $3.00 for Thanksgiving Thunder.

Coming next year Mediocre Mat Productions will be releasing two seperate DVD's. The first comming in January will feature "The Pride of the Plateau" Jason Kincaid's challenge for the AWA Lt.weight title. Preorders are now being taken for Jason Kincaid "Road to the Championship" in our Merchandise section. The second will showcase West Virginia's geatest wrestler. Brian logan 'Evolution of a Mad Man" will trace the epic career of the competitor whom hasfaught every single star in our industry. This compulation will feature a two hour interview with Logan. A candid portraial of this out spoken star, who holds nothing back about anyone. Also two disks of Logan facing top stars of our industry. Names like Chris Jericho, Undertaker, Big Show Randy Orton, Dirty White Boy, and many more. This three disk set is available for preorders now in our merchandise section, and will be released in April of 2006.

2005 will conclude Christmas Day Night, when AWA APEX will present Christmas Chaos. The cardfor this big event will soon be announced.